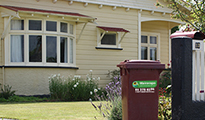 Our customers tell us they love the fact that all green waste we collect from them has a second life as high-quality compost.
All over the country landfill charges are on the rise: making it more costly per kilo to get rid of waste. Those costs will end up being passed on to consumers like you. What is also rising is our awareness of how much recyclable material, like food and green waste, is getting into landfills where it slowly turns into methane, harming our environment.
Put those two together – rising costs per kilo and environmental responsibility – and it makes great sense to recycle.